Sandy Teger: Broadband Architect and Market Strategist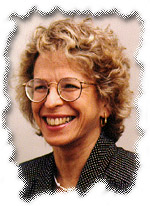 SANDY TEGER is a recognized expert in helping companies match broadband and computing technologies with the needs of consumers for products and services which make their lives better and more enjoyable. Together with her business partner and husband, Dave Waks, she consults for companies which are creating broadband technology-related products. Her work involves understanding customer needs and willingness to pay, identifying industry partners, providing competitive assessments and trying to insure that products are designed to be usable by real families.
Prior to Sandy's current consulting work, she spent eighteen years with AT&T in strategic planning for communications and interactive services, multimedia, visual communications. She obtained her BA degree in mathematics from Vassar College and completed studies for her MS at NYU's Courant Institute.